Bio
Scott Steiner
Date of Birth: July 29
Place of Birth: Bay City, MI
Height: 6' 11/2"
Weight: 275 lbs.

Nicknames:
"Big Poppa Pump"
"Big Bad Booty Daddy"
"Freakzilla"
"The Genetic Freak"
"SuperStar Scott Steiner"
"White Thunder"
Title History:
WWA Heavyweight Title (1986-87)
WCW Television Title (1992, 1998-99)
WWF Tag Team Title
(with Rick Steiner: 1993 - twice)
WCW Tag Team Title
(with Rick Steiner: 1989-90, 1991, 1992, 1996, 1997 - twice, 1998)
WCW U.S. Heavyweight Title (1999, 2000 - twice)
WCW Heavyweight Title (2000-2001)
WWA World Heavyweight Title (2002)

Finishing Moves: The Steiner Recliner, The Frankensteiner, The Steiner Flatliner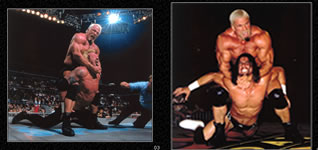 Scott Steiner waited for years for his chance at the world heavyweight championship. In 2000, the "Big Bad Booty Daddy" finally got his shot. He made the most of it, winning the title from Booker T. in 2000 with his signature, Steiner Recliner and dominating the main event scene thereafter. He has dismantled everyone put in the ring against him in 2001, solidifying his claim as one of the most dominant pro wrestlers in history.

Interviews | Events | History