Scott Steiner's Freak Show DVD
Viewer Reviews
This is one amazing workout DVD. Scott Steiner explains the workouts very clearly and they are simple and easy to follow. The DVD consists of 3 programs: A Beginner, an Intermediate and an Advanced Program , which makes it very valuable for someone who is just starting to workout as well as someone who has been working out for awhile. There is also valuable nutrition information included which would help lead to a healthy diet and healthy lifestyle. It was really classy of Scott to include an autographed poster of himself with the DVD. I would really recommend Scott's workout DVD and give it a 5 Star Plus Rating without a doubt.
- C. DeSouza
--------------------------------------------------------------------------------------------------
This DVD is F'N Amazing!!!!!!
Scott Steiner is ridiculously strong!! in one scene the guy is doing Lateral Front Raises with a 135lb barbell like its nothing! He does a 495lb bench press for reps with no help! All lifts are Natural (meaning no help, no weight-belt, no bench-press shirt, no wraps, he has one neoprene elbow wrap that's it!) I was always a Scott Steiner fan, but now more than ever! This DVD rocks that much!! BUY IT!!
The Advanced workout routine is killer!! I love it!
This is one of the only workout DVDs (and trust me I have a ton of them, my overall DVD collection: Movies, Martial Arts Training, and Workout DVD's total well over 1K) with a Nutrition segment! That is Awesome!!!! because it is the most important factor and is often overlooked.
Summary:
1. Total assault workout!
2. beginner, intermediate and advanced program
3. rare nutrition segment
4. bloopers and outtakes
5. sponsors page
6. Disclaimer: The Freak section where he shows off is a little racy because of interaction with his helpers, but for the easily offended this section can be skipped, but the feats of strength are worth the act. Remember its all an act. He's a really nice guy.
7. THIS DVD WILL MAKE YOU GROW!
view the blog page for this review here
-------------------------------------------------------------------
From rushing home from school at ten years old to this present day, I've always been a big Scott Steiner fan. I can still remember sitting at home watching WCW with Goosebumps as soon as the sirens started and he walked down the aisle to destroy anybody brave enough to step into the same ring as him.
It is common knowledge that most wrestling stars bring out merchandise for their fans to buy and to show their support. But I was surprisingly excited about the release of his "Freak Show" Workout DVD. Every Scott Steiner fan would only dream of having a body that he has been able to create, and now you have a golden opportunity to see how he trains and to see how he has become how he is. Can this be true???
When I first ordered the DVD, I couldn't help to think that I may have rushed into it and what I expected isn't what it was going to be. Take this for example, as a child you think that Superman is the best thing ever, but really it's just a man with a cape! Yeah, ok, I checked it out on YouTube to see the promos but that just gives you a keyhole sight into the big picture and will only show the best parts. Will I be disappointed?
Finally, the day came and it was here. Right from the start, you can sense that a lot of thought and work has gone into the making of it. The workouts are split into sections based on intensity that you can easily navigate around and they are broken down to a specific muscle so you can easily choose what you want to work and the exercises are explained and demonstrated clearly. There is also a "Freak Show" section that is well worth watching and also a section for diet and advice from the man himself and a behind the scenes and bloopers that is also fun to watch. While watching the DVD you get a real feeling that there is some kind of personal connection with him, like he's talking and training you as a personal trainer would, and this helps people like me, feels like you have to push yourself in order to not let him down.
It has helped me in the way that I train and understand more about my training and makes you look deeper into the sides of the programs but also the diet. It will also help people in other ways as there are clear demonstrations that will help people train, not just effectively, but also safely.
Overall, I'm very pleased with my purchase and can see the hard work and effort that has gone into the making of this product. I would advise anybody who is interested in working out to honestly consider buying this DVD! - Robert R.
------------------------------------------------------------------
I give the Freak Show DVD 2 peaks up. Do you like freaks? Do you want bicep peaks? Freakzilla is your hookup! This DVD includes a series of full body workout training routines, from beginners to advanced, under the tutelage of Scott Steiner, himself! He is not alone, though, he always has some of his favorite freaks in the gym with him. It's a highly entertaining DVD. Scott demonstrates what it takes to build the largest arms in the world! This DVD also includes bonus footage and a hilarious blooper real! So are you ready to deal with the man of steel? Huh? Buy Big Poppa Pump's DVD! So this goes to all my freaks out there, bootydaddy.com is your hookup! Holla if ya hear me! - Matt M.
----------------------------------------------------------------
When I received the Steiner DVD, I was pleasantly surprised. The quality of the production was top notch, the picture quality was fantastic, and very cool menus. Having a workout section for beginner, intermediate and advanced was really nice, because I am just starting out with my training. The commentary by Scott was also really cool and funny.
I like how the workout schedule/splits are also included, as well as the diet plan. The information that I gained I value a lot. Showing the variety of diet plans was also a bonus. - M. Bradan
-----------------------------------------------------------------

Received my Steiner Workout DVD and I am very impressed with the presentation. I have borrowed some of your ideas to freshen up my routine and what a difference! Just what I needed to boost my enthusiasm!
I was very impressed with the signed picture included inside the DVD cover. That's classy, throwing in a special freebee that I wasn't expecting. Even more meaningful, because I have been collecting signed pictures for years, on eBay, autograph signings and wrestler's websites. Can't wait to get to the gym tomorrow. Thanks again! - Robert A.
----------------------------------------------------------------
Matt Morse(me) after training with Scott's DVD...I am in another fan photo...Look at the difference lol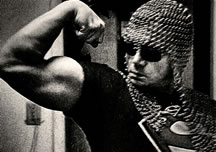 --------------------------------------------------------------
I have been a fan of Scott Steiner since his early days in wrestling, and to finally see his workouts, that make me realize that he not only looked strong, but also the work in the gym to look like that.
The DVD is excellent instructional video for beginners, intermediate and advance trainers. Scott explain the details of the exercises and a sample of it for the viewers, he also added a nutrition segment (with sample diets for lean out or bulking up), the importance of warming up and cooling down.
I recommend 100% this DVD, Scott telling you things and how to do it like sergeant… You can not get something better that this… I also recommend to see the Freak Show segment of the video, is really hardcore.

I'll give it 10 out of 10
-RPJ
------------------------------------------------------------------
This DVD isn't about some idiot trying to sell you products so you become something or someone you are not. If you like Scott Steiner, you will find it informative, amusing at times, but ultimately you have to give credit where credit is due. 1. No sell job on equipment. 2. Straight up on nutrition. 3. Scott Steiner. The diet part is easy and if you can get your Freaks to watch it, you never know what might happen.
-------------------------------------------------------------------------------------------------
Have a review of the DVD you want others to read about?
Send us your feedback and we'll post it!